KULTURisk: Knowledge-based approach to develop a cULTUre of Risk prevention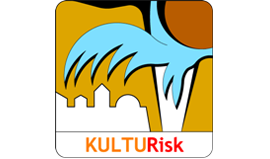 The KULTURisk project aims at developing a culture of risk prevention by evaluating the benefits of different risk prevention initiatives. This evaluation will be carried out by developing a novel methodology and referring to different types of water-related catastrophes, such as river inundations, urban flash floods, storm surges, rainfall triggered debris flows and landslides.
In order to demonstrate the advantages of prevention options, an original methodology will be developed, applied and validated using specific European case studies, including transboundary areas. The benefits of state-of-the-art prevention measures, such as early warning systems, non-structural options (e.g. mapping and planning), risk transfer strategies (e.g. insurance policy), and structural initiatives, will be demonstrated.
KULTURisk will first focus on water-related hazards as the likelihood and adverse impacts of water-related catastrophes might increase in the near future because of land-use and/or climate changes. In particular, a variety of case studies characterised by diverse socio-economic contexts, different types of water-related hazards (floods, debris flows and landslides, storm surges) and space-time scales will be utilised. Finally, the applicability of the KULTURisk approach to different types of natural hazards (e.g. earthquakes, forest fires) will also be analysed.
The main objectives of the KULTURisk project are:
A critical and comprehensive review of static and dynamic measures to prevent water-related hazards with special focus on the importance of risk communication techniques.
The development of a risk-based methodology for the evaluation and accounting of risk prevention measures.
The demonstration that prevention measures are more effective from a social and economic point of view than post-disaster recovery for different types of water-related risks characterised by different temporal and spatial scales and different socio-economic contexts within Europe.
The promotion of a culture of risk prevention by using the KULTURisk outcomes as examples to:
a) increase the risk awareness of the public via improved communication;
b) shape risk perception of inhabitants in an appropriate and responsible way; and
c) train professionals, regional authorities, officers of municipalities, consultants, academics and students to better evaluate the socio-economic benefit of risk prevention techniques for water-related risks.
In particular, our research group (Department of Environmental Sciences, Informatics and Statistics of University Ca' Foscari Venice, under CORILA partner) is leading WP1 "Methodology to evaluate the benefits of risk prevention" and contributing to WP6 "Validation and generalisation of the methodology".
Link: http://www.kulturisk.eu